It took me probably less than about 3-4minutes to find the first contender. Here we have something that should have been gelded a year and a half ago!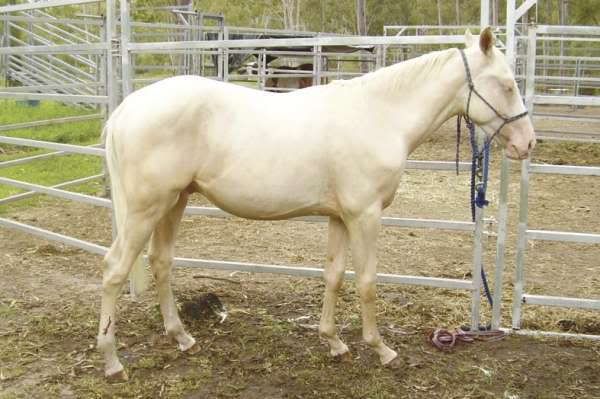 Cremello Colt

Age - 2 yo Price - $1,000

Mat 13.1hh, 2yo, super quiet to handle, make fantastic kid's pony if gelded/broken, can be reg. $1,000. Ispwich, QLD

Good lord... ok I love the more unusual coloured horses, but not when you breed for colour alone! Of course, he's a colt. Folks, if you are advertising your pony for under a few grand, he should no way be a stallion. He's 2 years old, those balls should have been cut off about a year ago. Sure.... tie your 2 year old up to panels directly, with a rope halter none the less, that may explain the nasty gash on his leg. And let's just pretend those front pasterns are ar a good angle. And have a look at those back hooves!!! What's with that stance, is he camped-out of just straining to escape? I'm not sure what is going on with those withers, and I think he looks this tired because he's trying to hold up that huge head on that poor thing little neck. And obviously the first thing you want in an environment like Australia is a cremello with pale pink skin. Looks like it;s too painful for this little fellow to even open his eyes in the bright sunlight. And yeahhe's quiet, maybe if you wormed him and gave him some decent nutrition he'd have a bit more energy. And I dunno, is that a bunch of rusty metal things near his front legs? Or some sort of noxious weeds. Of course he'd be from Ipswich. Let's see if the local fish and chip shop owner wants him.....